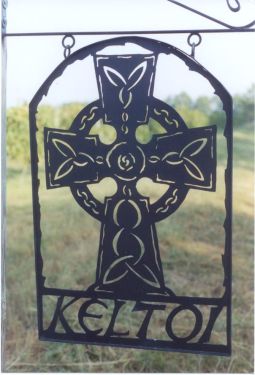 Erv and LeeAnn Langan invite you to spend a relaxing afternoon at Keltoi. The moment you arrive, the beauty and serenity will drive your cares away. Add this to sipping a lovely bottle of wine and you may not want to go home. Bring a picnic lunch and dine with a bottle of wine in one of many scenic areas of the estate. The Little Northfork Creek hems the west side or sit in the woods, or by the large pond, or in the vineyard if you choose.
We call a particular area "Maynooth" which is named after an ancient site in Ireland which has been used as a place for spirituality. If you wish to reflect or meditate or pray, this is a perfect place. Here, there is a Fairy Circle encircling a Tree of Life as well as a replication of the historic site, Nine Ladies." Overlooking both is a Leprechaun's Throne. Another location worth visiting is Culdee. Here is an example of a "Leacht", an early christian stone altar as well as a mound dedicated to St. Columbo.
You may want to enjoy your wine in "The Cottage" or on the patio. In the cooler days of fall and winter, there is a lovely fireplace to warm and relax you. In the winter, you can drink a cup of hot spiced wine the Germans call "gluhwein" which we make from our wine. One other site to sit and drink a glass of wine is Red Shamrock. There is a patio and firepit for use here.
We also have a mile-long walking trail around the property
Limited rough camping is sometimes available.
Erv always said, "If I don't sell the grapes, I'll make wine. If I don't sell the wine, I'll drink it."